It's not all the time when you want to stick to a low budget while buying a premium coffee machine. If you're one like-minded, this Jura Giga 5 review is solely for you.
Jura- the brand previously created quite a buzz among coffee enthusiasts with the Z-series. But there were a few drawbacks as the reservoir size, the grinding quality, the delivery time and so on.
So, they took themselves to the next level and released a number of exclusive models. And Giga 5 is on the top of the list.
No Time To Read? Our Top Pick Here !! JURA GIGA 6 (Updated Version)
Let's go deep down into the features and check out whether they're worth the money or not-
Jura Giga 5 Overview
The visual of Giga 5 is made of an aluminum front, black plastic sides, sleek spouts, and a colorful TFT display. The top part is equally impressive with the control buttons on it. There are an on/off button, a rotary switch and a program button to let you control the outcome.
You can find three spouts at the frontal lobe of the machine- two of them are for coffee, and one of them is for hot water. The spouts are adjustable, and you can adjust a range of cup sizes within.
With many models, canisters are not up to the mark because of the material. But the ceramic made canister had broken up the boundary in Jura Giga 5. It's noiseless and fast in operation.
The reservoir tank can contain 87 ounces of water, which is massive. If you take an average coffee mug size of 6 ounces, you can get more than 15 cups brewed. Therefore, it's the perfect barista for your office or home with large-in-number family members.
Now, let's see what the TFT display had got-
TFT display is literally the place where all the magic happens. Although, you might expect it to be a touch-enabled screen, but it's not. You've to select between the options with the silver-graded buttons. Using the rest of the control operations are also super easy. There are tons of settings in it, and you can expect to master on them over time.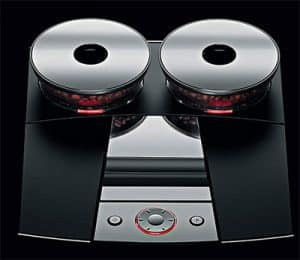 Grinding coffee beans had taken to the next level with the dual grinders of Jura Giga 5. It extracts deepest of the aromas from the coffee beans and channels them right into your cup. The grinders are made with care by ceramic, and that promises us years of durability.
However, you can not adjust the grinding settings manually through the control panel. There are two electronic motors from GIGA, who will take over in this case.
An obvious question is, how many cup size variations you can get from the Giga 5? Well, there are dual dispense spouts and their heights can be adjusted from 2.75 inches to 6.25 inches. Not only the height, but you can also control the width(distance) between the spouts within a range of 0.78 inches to 2 inches.
The quality of milk frothing is taken to the state of art level with the patented multi-chamber frothing system. They call it the revolutionary fine foam technology which is the secret behind the finely textured, and consistent milk foam.
To chose between a variety of coffee(just like a barista), there are programmable options. Remember the rotary control at the top surface? Well, that's where you can choose between the 12 given options of imaginative coffee creations. You can choose from Marocchino, White Cool, Pepresso, Latte Macchiato, Cafe Melange, Irish Coffee, Winter Magic Coffee, Viennese Coffee, Mango Lassi and so on.
The intuitive images and texts of Giga 5 will guide you through the whole system.
Unlike other automated coffee makers, you don't need to descale and clean up the Jura Giga 5 every other day. There is a built-in mechanism for providing complete hygiene and cleanings throughout the operation. All you need to do is to rinse them with cleaning tablets which are provided with the box in first place.
However, we have a complete guide regarding this. Let's save it for later.
Highlighted features
12 different barista-special coffee selections are there to chose from, the programmable rotary control helps you to make this choice.

Colorful TFT display for a completely instructive and intuitive guide on the operation.

A clean, pure and minimalistic aesthetics.

Two ceramic made grinder to provide optimal aroma and ground quality right into your coffee mug.

Dual coffee dispenser with one hot water dispenser. The coffee dispensers are adjustable within 2.75" to 6.25".

87 ounces massive reservoir size to hold up to 15-20 servings of coffee.

Automatic milk frothing system with the patented two-stage frothing system.   
Pros
Has dual grinders for better ground.

Can serve two coffee shots at the same time.

Improved and high-quality milk frothing.

Programmable among 12 different coffee types.

Intuitive and colorful TFT display control.  

Adjustable height and the distance beneath the coffee spouts.

Can house a good range of cup sizes.

Cool and clean aesthetics.

Fast and quick coffee dispense to meet heavy schedule.

Cleaning and maintenance are made easy for users.      
Cons
Weighs about 40 pounds, too heavy for hand-carrying.

Does not have a cup warming tray.

No indicator onto the water tank.

Weight is quite off the mark(40 lbs).  
What Is The Difference Between A Jura Giga 5 vs Z9?
Jura Giga 5 and Jura Impressa Z9 had been two of the most talked about coffee makers from the inventory of Jura. With so many similar and close-to-each-other features, it's a pretty common fact to be confused between these two.
Therefore, we've crafted up the sole differences between Giga 5 and Z9 below-
Size and Weight
There are notable differences between these two models from the viewpoints fo size and wright. The footprint of Giga 5 is larger with a heavier weight as well. The Jura Giga 5 has a dimension of 20x 17x 13 inches, and the Z9 has a dimension of 13x 17x 15 inches. The weight of these two is 40 lbs and 35 lbs consecutively.
The Water Tank
As long as you're concerned of the refill frequency of the two machines, the reservoir size does matter. Z9 has a reservoir of 70.3oz, where Giga 5 has a reservoir of 87oz in size. Definitely the bulkier weight and larger dimension of Giga 5 makes sense, right?
The Grinder
Giga 5 has a ceramic made dual grinder, which can break down the beans like a pro. There are a number of advantages of a ceramic made grinder, which leads to a better and longer lasting experience.
On the other hand, the Z9 Impressa has Jura's combination of Aroma+Grinder. It's made of a Metal burr, and can not give as much durability as the Giga 5's grinder does.
Programmability
As you already know, Giga 5 gives you 17 different choices of coffee combinations, and you can set that just by rotating the control knob over the top. On the other hand, Z9 gives you 12 options to chose from.
Also, there are 12 different coffee specialities in case of Jura Giga 5, and 9 in case of Z9 Impressa.
Multi-Brewing
As per the design is concerned, Giga 5 can brew 2 different coffee shots of different specialties at once. So you're able to serve more people with a given span of time. But the Impressa Z9 has only one coffee dispenser.
Price-Quality Ratio
If you talk about the price only, Giga 5 will cost more than the Z9. But if we expand our horizon to a little further, there comes the price-quality ratio. And that's definitely a plus point for the Giga 5. Considering all the functions and features, we definitely can tell that Giga 5 is totally worth the money. For the lower end of budget, that's applicable to Z9 as well. So it's a tie.
How To Clean and Descale?
Cleaning up the Jura Giga 5 is not that much of a big deal. All it takes is the implementations of the cleaning tablets, which is already provided with the machine. While purchasing, you'll be given with two of the cleaning tablets, and later on, you've to spend money on that.
There are four regular parts that are needed to be cleaned up while descaling. the parts are- the coffee system, the milk system, the spout cleaning, and the water filter cleaning. Here are the instructions for each-
Step 1: Cleaning the Coffee System
Based on the using frequency and workload, the coffee system can be cleaned off anytime. But the machine will provide you with prompting about when to clean the coffee system.
Right after you've received the prompting, don't neglect it and use 2 phase cleaning tablets called Jura Capresso 2-phase cleaning tablets.
Step 2: Cleaning the milk system
The milk system is the most unhygienic part of the entire machine, as milk-based drink machines are likely to buildup layers of solid residues on the bottom of the tank.
There is a Jura Milk System cleaner which gives you hand to clean off the milk system and keep it hygienic. However, like the coffee system cleaning, the machine may not provide you with automatic prompting to clean up the milk system. You have to know the cleaning frequency by yourself.
Step 3: Cleaning the dual spout
The dual spouts are removable, and if you need to clean them off, take the spouts off the machine first. There are clear cut disassembly instructions found on the user's manual of the product. We urge you to follow the exact instructions.
Step 4: Cleaning or Changing the Water Filter
Upon regular use, the water filter can be dirty and dysfunction thereafter. A regular frequency of changing the water filter is after every 60 liters of water usage. On regular use, this amount should be used in every 3 months of 90 days.
There are actionable instructions in the user's manual regarding activating and installing the filter at the 44-46th page of the manual. If you go through the steps, you don't have to descale the machine to replace the water filter.
Jura Giga 5 Cost Comparison
Customers Feedback
'No matter how hard I tried, I could not meet my two ends of budget and performance to find a dual sprout coffee machine, until I met Giga 5. It's automatic, it's fresh and I can serve my customers at my restaurant without any hassle.'
'17 specialities of coffee- that's what drew my attention at first place. I didn't mind the touch panel, as it's less important than the quality of the coffee. But I'm completely happy with what I got with the Giga 5.'
'My previous model was DeLonghi EC702, but that ended up in crap within one year. I was pretty serious not to invest after bulky coffee makers anymore. But Giga 5 seems to be a clear cut exception for me. Thanks, Jura.
FAQ
Question: How does the dual grinder help to get me a better coffee?
Answer: The ground of the coffee beans is the main deciding factor of the texture and intensity of a coffee shot. The dual grinder will, therefore, boost up the coffee taste and depth.
Question: Is the frother improved and better than Z-series coffee machines?
Answer: Yes, Jura had improved the frother quality in Giga 5 compared to the Z series models.
Question: Is the brew group removable in Giga 5?
Answer: No, brew group are not removable in case of Giga 5.
Question: Do I get any cleaner tablet with the Jura Giga 5 package?
Answer: Yes, you will get a couple of them at initial purchase. Later on, you've to buy them yourself.
Verdict
Although, Jura Giga 5 comes with a high price tag along with a bulkier size than it's close alternatives. But as long as you're not ready to negotiate the quality for that, it's a good one to go. It looks elegant, it performs first and it gives you quite some ways to customize your coffee kind. So, our summary is- Giga 5 is completely worth the money. Hopefully, this Jura Giga 5 review had led you to meet us at the same point as well.
You May Also Like:
My name Is Stephane Carol. Stephane Carol Is a coffee addicted. Love to drink coffee most of the times. A few days ago (Most probably November 2018) I decided to start blogging from my real life experience about coffee, coffee making machine and coffee related Items to help who have also Interest In coffee.